Themify Builder – Drag & Drop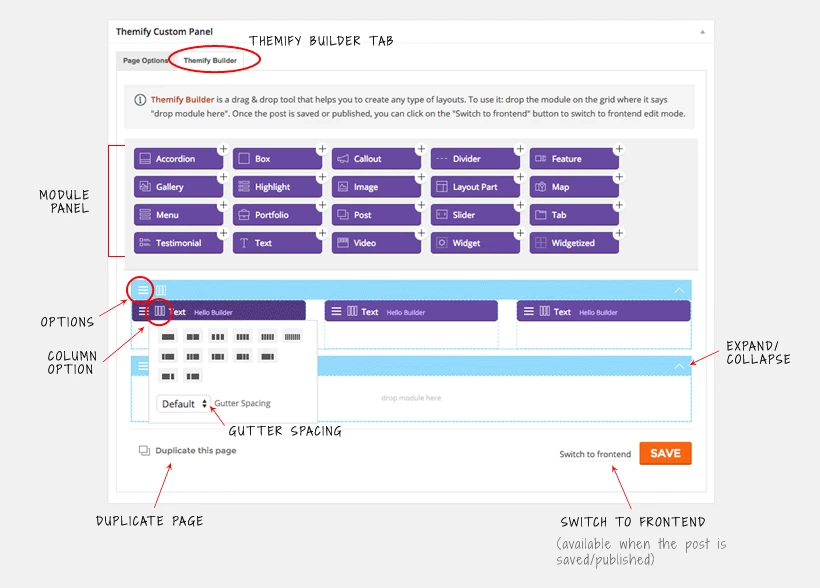 The Themify Builder is the most powerful and easy to use page builder for WordPress. Design any layout that you can imagine, bring it to life using the drag & drop interface, and watch it come to life right in front of your eyes with live preview. Drag, drop, select, and you've built beautiful pages – without any coding!
Front & Back
Build and edit your layouts in the WordPress Dashboard backend, or directly on the website frontend, using Builder's live preview capabilties.
BACKEND EDIT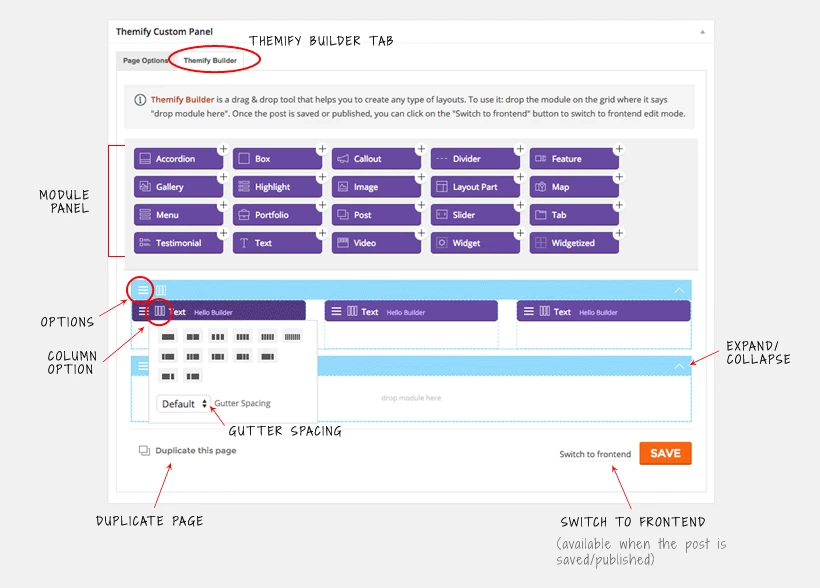 Compact backend interface allows you to drag & drop modules around easier and quicker.
FRONTEND EDIT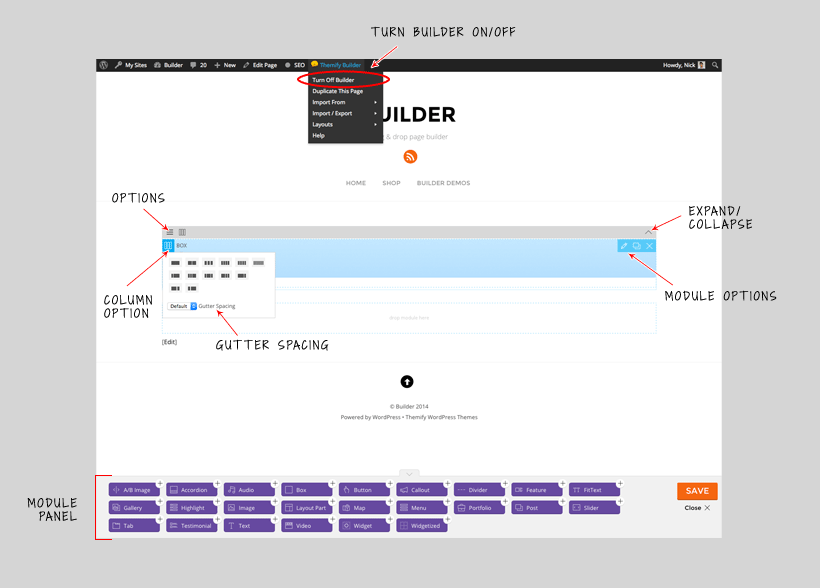 Frontend edit mode allows you to preview the design live – what you see is what you get.
Fast Prototyping
Builder offers many quick prototyping tools, to make building your websites even faster and simpler.
PRE-BUILT LAYOUTS
Use pre-built Layouts included with Builder, or create your own custom Layouts to import into Builder for faster prototyping.
LAYOUT PARTS
Easily reusable content built with Builder by inserting Layout Parts into Builder, or with shortcodes.
IMPORT / EXPORT
Share page layouts with clients or use it to create different versions of your layouts with the Import / Export tool.
Custom Styling
Take full control of your page appearance. Style everything from color, background, font, spacing, border, and even the animation effects!
VIDEO BACKGROUND
Fullcover video loop in the background of any row.
PARALLAX SCROLLING
Set a background image that uses parallax scrolling.
GOOGLE FONTS
Choose from over 660+ Google Fonts.
COLOR PICKER
Choose the exact color you need, and even change the opacity.
ANIMATION
Over 60+ animations to apply to any module or row.
Underlayer Code
RESPONSIVE
Both front-end and back-end of your website is responsive, working for desktop, tablet, and mobile devices.
SEO FRIENDLY
All content made inside of the Builder is 100% SEO friendly and completely indexable by search engines.
MODULAR BASED
Builder is modular in design and has optimized code for better performance. Resources and files are loaded only when in use.
HTML & SHORTCODES
Builder utilizes the WordPress editor to support rich text formatting, HTML, and shortcodes.
MULTI-SITE SUPPORT
Builder works on single WordPress sites, or multi-side networks. You can use Builder to power as many websites as you want!
TRANSLATE-ABLE
The Builder core code is fully localized using WordPress standards, letting you translate into any language.
Modules
Builder includes almost any module you could possibly ever need, to build any sort of layout.
ACCORDION
Toggle-able and expandable content.
BOX
Boxed content with shortcode support.
CALLOUT
Text box with call to action buttons.
DIVIDER
Customizable horizontal divider.
GALLERY
WordPress lightbox gallery.
IMAGE
Image with title and caption.
MAP
Customizable Google Map.
MENU
WordPress custom menu.
POST
Displays Posts from any categories.
SLIDER
Slider of images, videos or text.
TAB
Vertical or horizontal tabs.
TEXT
Text using the WordPress visual editor.
VIDEO
Video embeds (eg. YouTube, Vimeo).
Extendable Addons
Need more than what's included in Builder's modules? Builder is fully extendable by installing Add-ons!
COMING SOON!
Plugin Support and Updates