Folders – Organize Media Library Folders, Pages, Posts And Media Categories with Drag & Drop
Folders is a WP plugin that allows you to easily organize pages, media, and posts inside of folders. Just drag and drop them into unique directories and then browse/edit them in tree view (hierarchies).
Why You Need the Folders Plugin
Professionals in various industries are using Folders to manage their WordPress files. You too can use it to:
Organize all of your media files into subfolders and media categories, such as music, images, videos, blog posts, and website pages. You can place files into multiple subfolders, such as images and videos you insert into numerous web pages.
Web developers can use it to organize clients' websites throughout the development process. You can do this by starring folders or creating unique names for each folder, so your client's know what's what (and what they're allowed to touch).
Bloggers can manage content easily with the Folders plugin. Quickly organize your photos and content by categories, topics, and/or dates.
Upload files to your WordPress quickly and organize them into custom directories, so they're easy to find. No more wasting time searching for critical pieces of content!
Tag folders as essential so you can quickly find the contents inside to complete projects and tasks.
Note:adding a page/post/image into a folder will not change its URL.
LIVE DEMO
Want to see Folders in action? Click here!
Organize Media Library Folders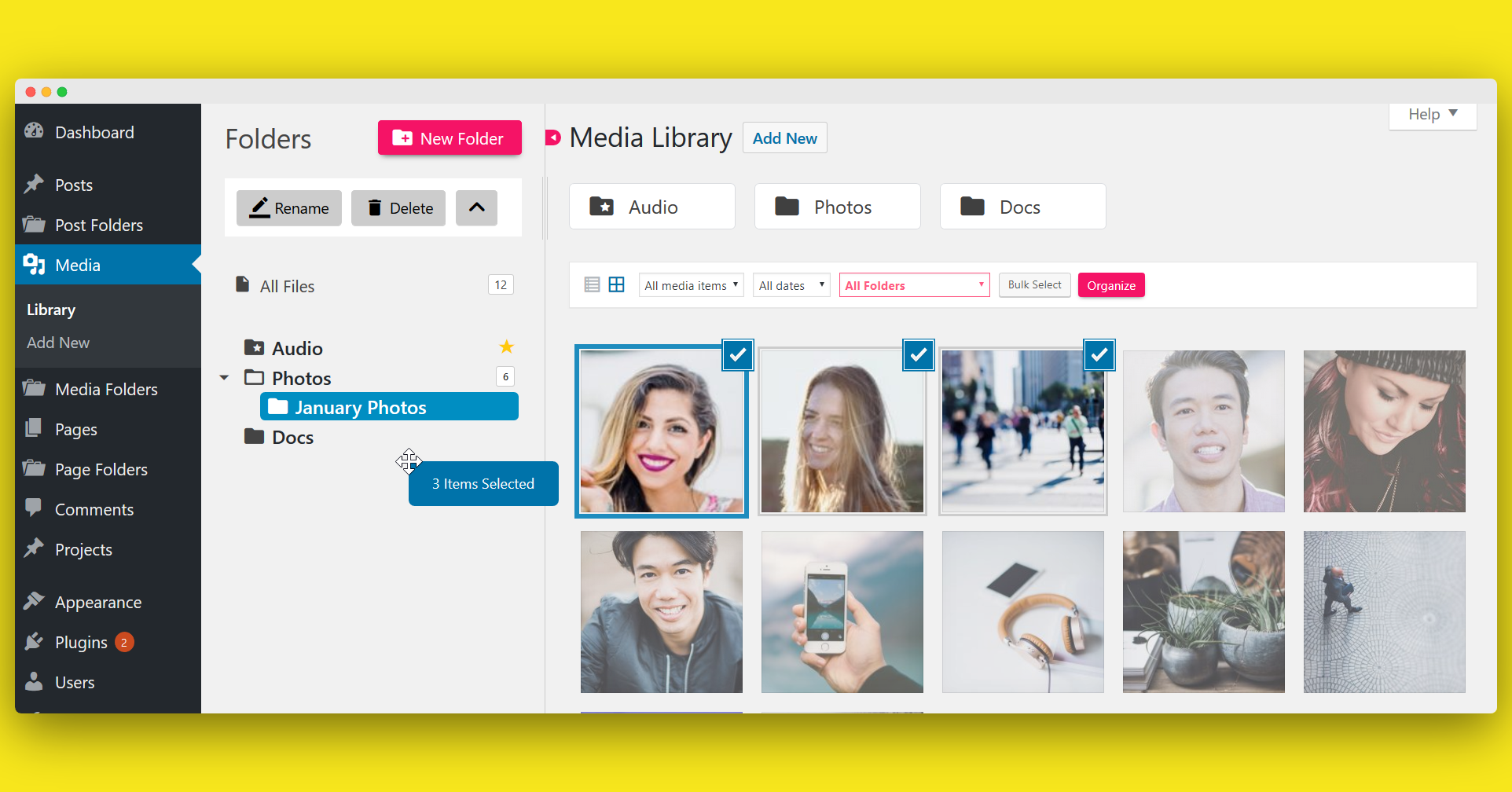 Organize Pages Folders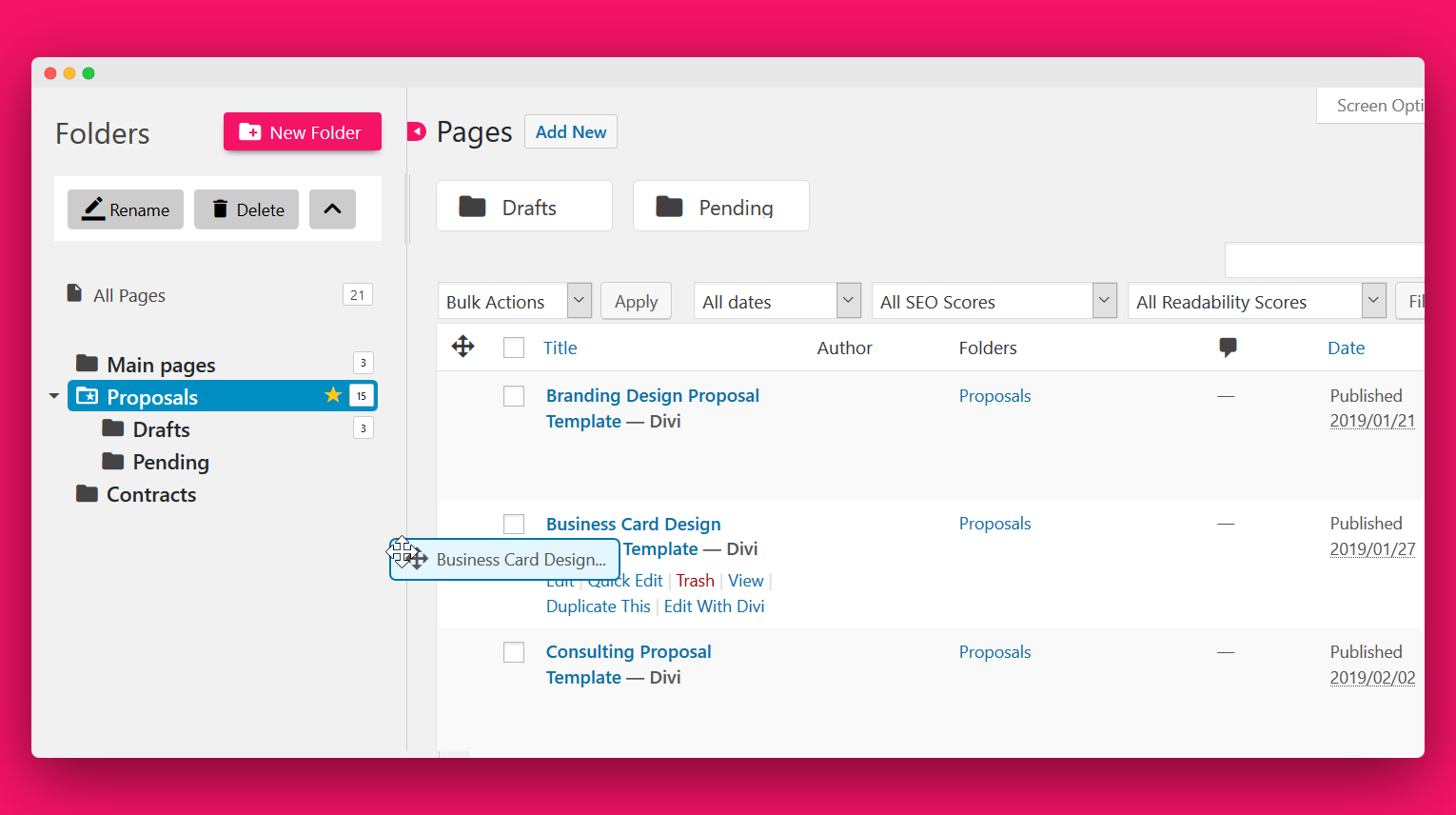 Organize Posts And Custom Posts Folders

How Does Folders Plugin Work?
Folders is a simple plugin to use. With just a click of a button, you can quickly upload and create posts, pages, custom posts, videos, audio, text, and images, to your WordPress content. Then easily organize your uploads neatly into folders, subfolders, and media Categories you create. For example, you can have a folder for all of your music files or one to house all the content you upload on a specific date. Plus, there's a drag-and-drop system that makes it quick and easy for beginners to use. You're creating your very own content library that's readily accessible. It's an excellent tool for designers, artists, writers, publishers, and digital agencies.
Here Are Several Use Cases
Not sure how you can implement Folders plugin for your online business? Let's review several use cases:
Bloggers: Organize your blog posts and pages with ease into folders, and media library files into media categories folders. This includes all types of images, videos, text, and audio files. Then organize all of your uploads into clearly labeled folders for all your media.
Web Developers: Organize all of the content you upload to clients' sites so you and your customers can find items quickly. You can upload content by type, such as graphics, content, site elements, and animations.
E-Commerce: Running a digital store requires you to upload new products and descriptions on the fly. You can keep everything organized by adding uploaded files, pages, posts, and custom posts into subfolders ordered by category. For instance, you can have folders for apparel, accessories, shoes, and underwear.
Photographers: Taking photos and uploading them to your WordPress blog or portfolio can help grow your business. With Folders, you can organize your uploads by the media categories types of images you take, i.e., environment, real estate, people, abstract, and so on.
Publishers: Organizing content you edit and publish to online platforms can be tough. Especially if you're managing dozens of pieces of content regularly. With Folders, you can quickly organize the content and all of its media files into subfolders ordered by topic, date, media type, and so on.
Digital Agencies: There's a lot you have to manage in a digital agency – blog posts, videos, ads, images, social posts, and more. With Folders, you can organize all of this content, so you can easily find it to reuse or reference in future projects.
Features of Folders Plugin
Create unique folders
Organize and create subfolders
Drag and drop media files, posts, and pages into folders, subfolders, and media categories
Choose which folders you want to add media to as you add them them your WordPress pages and posts
Easily edit hierarchy and order of folders using the drag-and-drop feature
Edit the names of folders/subfolders
Select files in bulk and drag and drop them into folders
Quickly find files with unassigned folders so you can organize them accordingly
Star important folders
Sticky toolbar that enables you to navigate and organize your folders on the whim
Assign and arrange pages, templates, posts, and other files simultaneously
Assign files to multiple folders at a time
Change the size of folders menu
Compatible with RTL admin panel (such as Hebrew,Arabic etc.)
Add and remove folders menu from media, posts, custom posts, and pages
Easily minimize the size of folders area to maximize space
Quickly see the subfolders inside each folder
GDPR AND PRIVACY
Folders plugin is GDPR compliant:
We don't keep any data from users and visitors
No data is sent to remote servers
Our plugin is designed to organize WP media files, pages, and posts
Folders is compatible with Divi, Elementor website builder, Gutenberg, Visual Composer, Beaver Builder, WPbakery, and other WP themes.
Folders is an alternative to FileBird, WordPress Real Media Library, WP Media File Manager, Media Library Categories Premium, Media Library Categories Premium, and more
What our users say about us?