Facebook Messenger Auto-Reply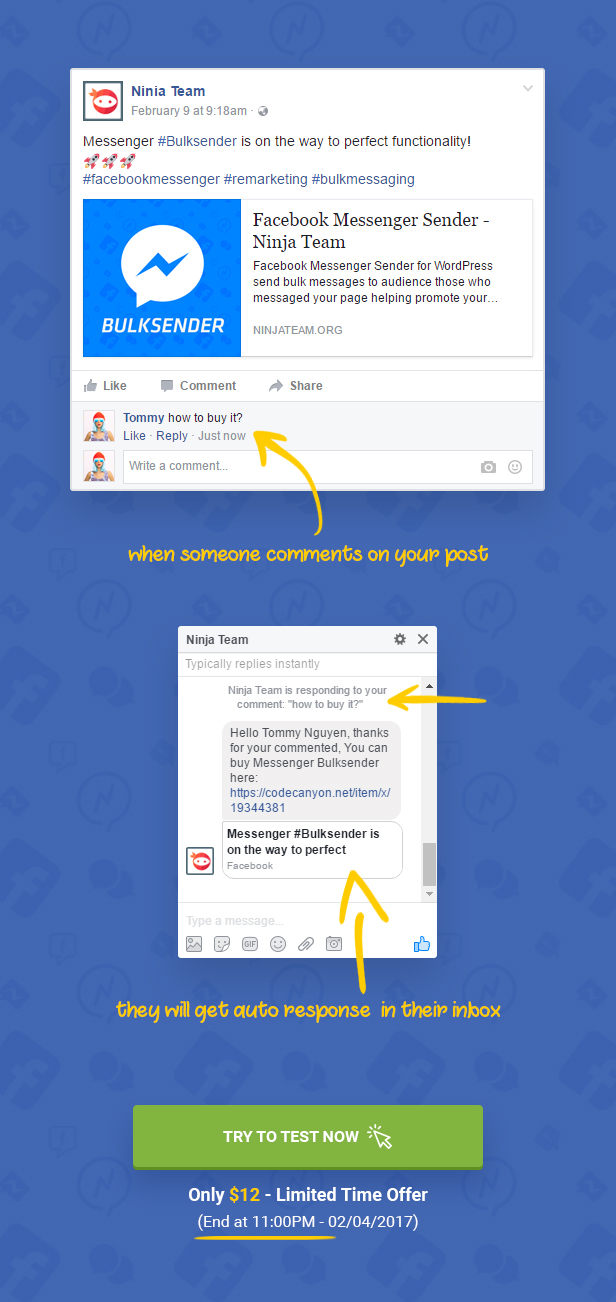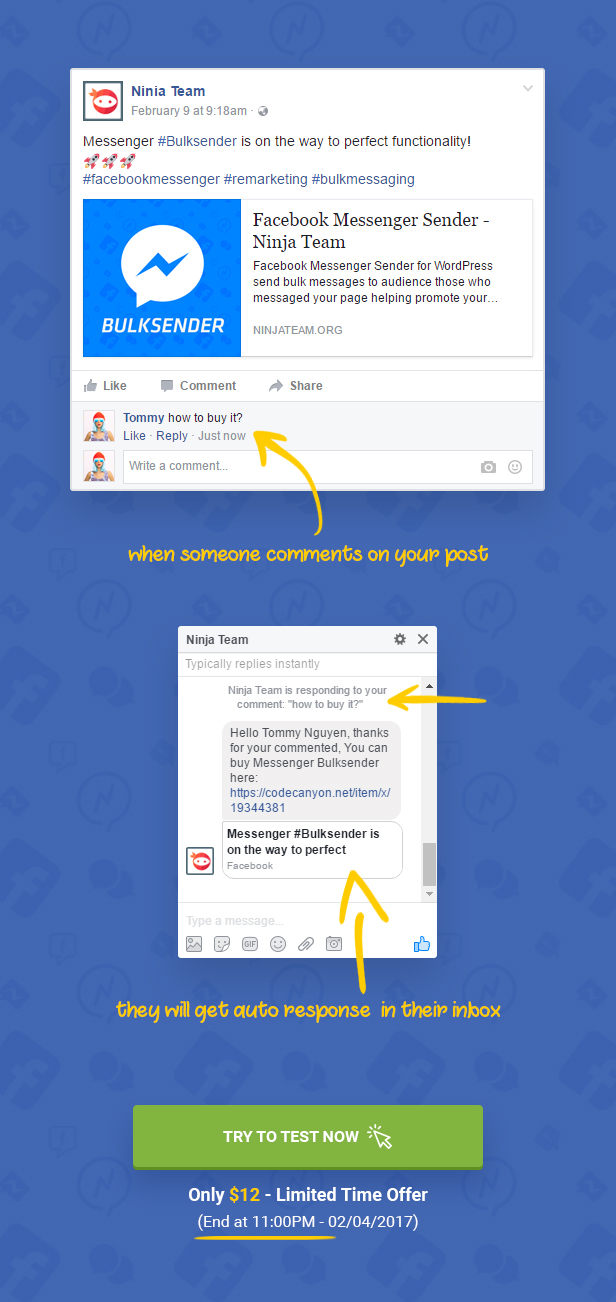 Reply to Facebook Comments with Private Messages
Set up automatic responses to anyone who comments on posts or page.
JUMP RIGHT IN IF YOU ARE ONE OF
FACEBOOK ADVERTISERS
who want maximum engagements
E-COMMERCE SELLERS
looking to boost sales
BRANDS
trying to build recognition
PRODUCT VENDORS
trying to provide better support
FACEBOOK FAN PAGE OWNERS
seeking to grow your page
CONTENT CREATORS
who want to build the audience base
Auto-Reply Messenger gives you the power to
OPTIMIZE CONVERSIONS
Start living with richer conversions by making customers know you and trust you.
BETTER FACEBOOK MARKETING
Create posts to drive Facebook users to get involved and boost engagements.
UNLIMITED ADS WITH $0
Reach your customers frequently WITHOUT monthly fee!
100% INBOXING & POPUP MESSAGE
The message you send will be delivered to visitor's Facebook inbox, and a message box will pop up on the screen. You get 100% inboxing rate!
MAXIMIZE YOUR SALES
Be the first to strike up conversations & directly give more information to your leads to get more sales.
USE NEW TOOL AT EASE
It's very easy to set up and tailor your messages.
TAKE CONTROL OF COLLECTING LEADS
No more waiting for visitors to leave messages, now you actively say hello to them.
RICH FUTURE COMBINATION
You can use this plugin in combination with Facebook Messenger for WordPress or Bulksender to expand your customer base.
HOW IT'S GONNA ROCK
Get Rid of Your Unproductive Work Habits Once and For All
Here's How Auto-Reply Messenger Expand Your Possibilities
Improves customer trust by creating a personal touch
Increase Facebook page response rate
Boost conversions by enabling customer interaction
Motivate your customers to ask questions and get the answers
Get instant feedback from your leads
Share custom offers, coupons and promotions in conversations
WHY AUTO-REPLY MESSENGER?
You're spending a lot of money and time creating fresh content for organic growth.
You're carefully laser-targeting people through Facebook advertisements.
You wish you can turn more of your audience into profitable clients.
Now you can achieve it, yet completely at ease!
FAQs – Frequently Asked Questions
Q: How does this inbox 100% of the time?
A: This is a Facebook feature. They now allow you to send a personal message to your audience that leaves a comment on your fan page post. It works because that's the way Facebook wants it to work.
Q: Can I send another message after the first one?
A: Yes, you can carry on a conversation with the prospect through the messaging interface of your page and reply to any question or comment that the customer might have.
Q: Do I need to know programming to use this?
A: Using this app is very intuitive. If you can manage your fan pages, you can easily use this plugin to set messages for your fans.
Q: What is the difference between Messenger Bulksender and Auto-Reply Messenger?
A: When someone messages your page, Messenger Bulksender keeps their contacts in your database and lets you send tailored messages to all or part of them.
When someone comments on your page/posts, Auto-Reply Messenger automatically sends private messages to them, intrigues them to reply and engage.
Q: Can Auto-Reply Messenger save user contacts such as emails?
A: No. However, you have their Facebook contacts in WordPress backend, and get in touch with them via Facebook Messenger whenever you want.