Advanced Contact Form Plugin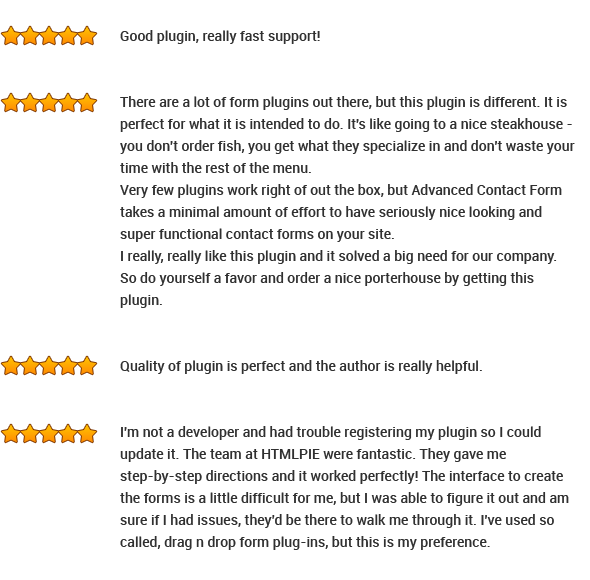 This is a feature-rich WordPress contact form plugin that allows you to add powerful ready-made contact forms to your site in 2 minutes!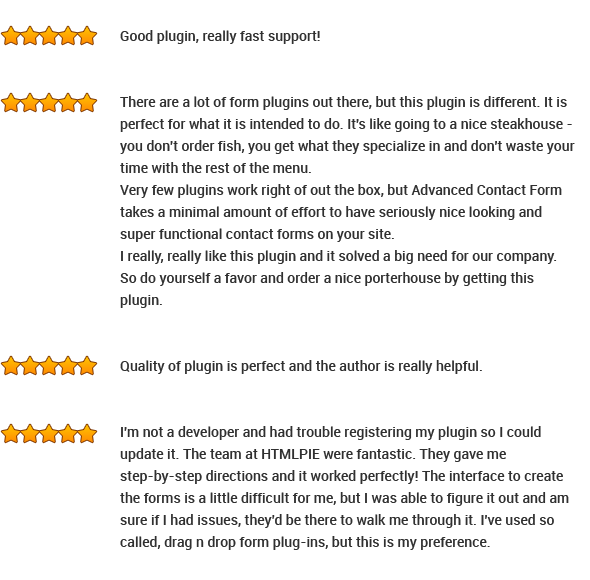 Here are top reasons you may fall in love with this plugin!
| | |
| --- | --- |
| | 2 minutes to setup, integrate, & style! |
| | Fat-free! No crap included to increase sales! |
| | Works with any theme! |
| | Ready-made CSS3 styles! |
| | Visual Composer support! |
| | Unlimited number of forms |
| | Shortcode & Widget support |
| | Multiple recipients, with CC & BCC |
| | File attachments, plus validation |
| | Spam, CSRF & XSS protection! |
| | Optional anti-Spam flood protection |
| | E-mail & IP address blacklists |
| | Built-in image CAPTCHA |
| | Built-in hidden CAPTCHA (honey pot) |
| | Built-in riddle CAPTCHA (localization-ready) |
| | Customizable form field labels! |
| | Customizable submit button text |
| | Customizable e-mail subject & body! |
| | Customizable automatic response! |
| | Customizable subscription notification! |
| | Customizable subscription verification! |
| | Customizable newsletter field label |
| | Compatible with WPML, qT, etc |
| | Very small front-end only PO file! |

| | |
| --- | --- |
| | SMTP support (with TLS\SSL support) |
| | Customizable "From:" header! |
| | Plain text & HTML support |
| | Optional redirection on success |
| | Optional last name requirement |
| | Automatic subscriptions |
| | Optional subscription notification |
| | E-mail address verification |
| | Per-form configurations |
| | Web accessibility best practices |
| | Optional WAI-ARIA landmark roles |
| | Progressive enhancement |
| | Unobtrusive JavaScript\AJAX |
| | Unobtrusive client-side validation |
| | Mobile-friendly |
| | Retina-ready! |
| | Optimized CSS, HTML, and JavaScript |
| | Minimum HTTP requests |
| | Least 3rd-party dependencies possible |
| | Optional "no relay" (iPage, GoDaddy, etc) |
| | Semantic structure |
| | Automatic updates |
| | Top-notch support! |
| | And really really much more… |
Screencasts
Want even more features?!
Sure! send your feature requests via this page.
Please do NOT use the comments section for support requests, use the "Support" section instead. Thank you!
PHP 5.2 has been deprecated ages ago!
As you may have already realized by the comments, this plugin does not support PHP v5.2 because PHP v5.2 has been deprecated over 4 years ago.
If you are using a deprecated version of PHP please upgrade it – or ask your host to do so – even if you are not going to buy this plugin please do upgrade it for your own sake! Thank you!
ajax, attachment, captcha, contact, css3, email, form, html5, newsletter, responsive, shortcode, spam, subscription, validation, widget